San Lorenzo Adult School In-Person Registration (9-11 a.m., 5-7 p.m.)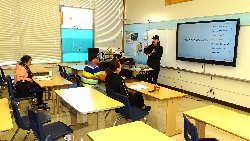 What

San Lorenzo Adult School In-Person Registration (9-11 a.m., 5-7 p.m.)

When

11/28/2023

Where

820 Bockman Road, San Lorenzo CA 94580
The San Lorenzo Adult School will hold in-person registration from 9-11 a.m. and 5-7 p.m. on Nov. 28 for free winter classes to learn English as a second language (ESL) and complete high school -- and also for affordable classes in fabric crafts and certification in computer networking.

School staff will be ready to help interested students 18 and older register for daytime and evening classes that start Dec. 4 or 5 and continue through May.

Students are not required to reside in the San Lorenzo Unified School District. They must have an email address. Students registering for ESL and high school completion will be asked to schedule and complete a pretest for placement in courses that match their readiness level.

More information about the adult school is available online at adu.slzusd.org or by calling 510-317-4200 weekdays between 8 a.m. and 3 p.m.
Copy to Google Calendar
•
Download iCal Event